Marshall DSL15H 15-Watt All Tube Amp Head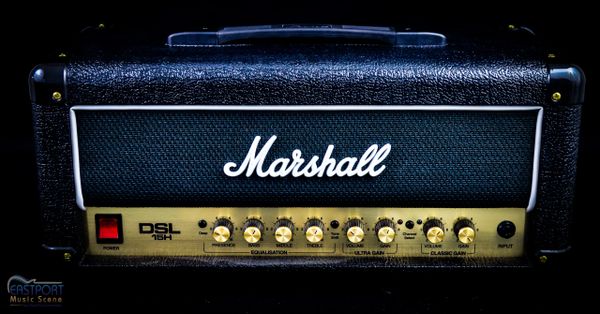 Marshall DSL15H 15-Watt All Tube Amp Head
Eastport is proud to present this killer DSL15H 15-Watt Amp Head. The DSL15H is an all-valve, 15 Watt head that delivers great tone in a compact 'small box' design. Powered by two 6V6 power valves with four ECC83s in the preamp, the DSL15H might be small, but its guts are as serious as its big brother, the DSL100H. With footswitchable Classic/Ultra Gain channels (footswitch supplied), deep switch to boost lower-end chunk, and on the back panel a Pentode/Triode switch for maximum flexibility (15 Watt to 7.5 Watt), the DSL15H perfectly combines performance, versatility and value for money. Disregard this beast's size, it has a lot of power, and ton of growl to it. You can seriously rock out with it anywhere you go.
We are also selling its matching 1x12 Marshall Cab that is shown in the last picture. The cab shown is NOT included in this purchase. If you would like to purchase the matching cab, the link is below.
http://www.ebay.com/itm/-/332021127506?ssPageName=STRK:MESE:IT
Eastport Music Scene is an authorized Marshall Dealer. If you have a question about this item or any other
items please call Eastport Music Scene @ 631-325-6972 we are here to help.
Reviews