Jackson X Series Soloist SLX Zebra Wood *New Model*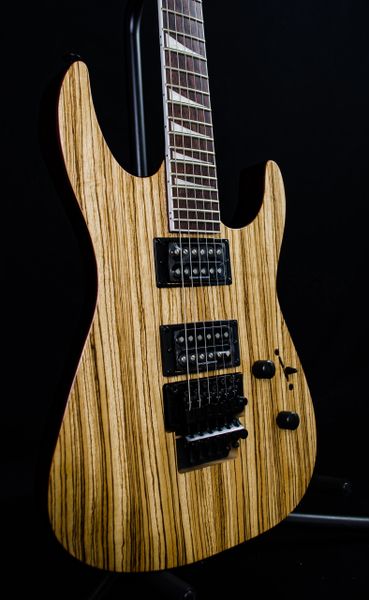 Jackson X Series Soloist SLX Zebra Wood *New Model*
Eastport Music Scene is proud to present to you this Jackson X Series Soloist SLX with Zedra Wood top. This guitar is a fantastic, even weighted, thin necked shred machine. It is very fast to play on and it feels very sturdy and very suitable for live shows.
Leap headfirst into the fray with Duncan Designed™ pickups; two high-output HR-103 humbucking pickups in the neck and bridge positions. Master volume and tone controls, along with a three-way blade switch control the formidable pickups' output, making their power yours to command. A stylishly contoured body and pure Jackson neck-through-body construction ensures ergonomic comfort during long sets along with monstrous sustain and smooth playing all the way up to the 24th jumbo fret. Graphite reinforcement rods run through the one-piece neck, protecting it against environmental depredations while the ultra-fast 12-16" compound radius dark rosewood fingerboard is built from the get-go for easy chording and riffing near the nut and rapid, fret-out-free leads as you move up the neck. The recessed Floyd Rose® Special double-locking tremolo is fluidly easy to use, working in tandem with the Floyd Rose R3 locking nut to ensure your axe precisely returns to its original tuning after every dive-bomb.

The X Series Soloist™ SLX bears Jackson's traditional appointments—black hardware, knurled dome control knobs, durable finish that easily shakes off sweat and other grime, pearloid sharkfin fingerboard inlays and the famous Jackson Pointed 6-In-Line headstock. Engineered for the 21st century musician, the SLX melds classic style with modern materials and construction for this precision music machine.
Eastport Music Scene is an authorized Jackson dealer. In keeping with our agreement with Jackson, we are only able to ship "NEW" Jackson guitars, basses and amps to the United States and its territories. However, we can ship anything that is "USED" anywhere in the world.
Reviews