Fender Standard Precision Bass in Black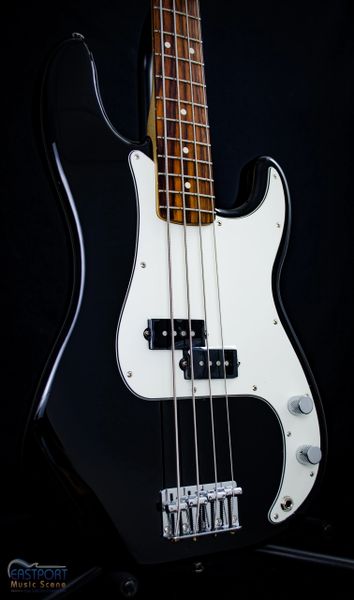 Fender Standard Precision Bass in Black
Eastport Music Scene is proud to present to you this Fender Standard Precision Bass in Black. You want the classic rockin bass tone with a really sweet rosewood fretboard grain? Look no further. You are staring at signature fender tone, signature fender look and a bass that just won't quit as it delivers low action playability and super clear tone. Combining traditional design with contemporary features, the Standard Precision Bass is an elegant and affordable classic designed for the bassist who appreciates great style, rich and muscular tone, and excellent value. Time-honored Fender style and performance-minded modern upgrades don't have to break the bank, and this model delivers the best of both in a design ideal for Precision Bass players everywhere at every level. This instrument features a modern neck designed for comfort and performance, with a contemporary "C"-shaped profile (the shape of the neck in cross section) and a smooth back finish. Ideal for those who play with the thumb on the back or side of the neck. In more than half a century of Fender history and modern music history, there's really nothing like the timeless sonic boom of a Precision Bass, coming from a clear, punchy and powerful-sounding Fender Standard split single-coil Precision Bass pickup.
Eastport Music Scene is an Authorized Fender Dealer. In keeping with our agreement with Fender we are only able to ship "New" Fender guitars, basses and Amps to the United States and its territories. However, we can ship anything that is "Used" anywhere in the world.
The instrument that you are looking at in the pictures is "New" and the actual instrument that you will receive. If you would like to ask us any questions about this instrument we are always available to help you. Please call us at 631-325-6972.
Reviews