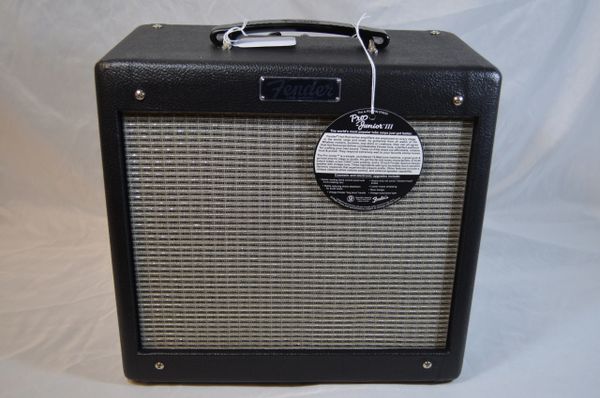 Fender Pro Jr Combo
Eastport Music Scene is proud to present a great little no frills combo from Fender. We are offering a Fender Pro Junior lll Combo. This little and simple 15 watt dynamo from Fender sounds great and is really fun to play. When I say no frills I mean it. The Pro Jr is 15 watts (as stated). It has 2-12AX7's, 2-EL84's and a solid state rectifier. The speaker is a 10" Fender Special Design. The controls are... (are you ready to write this down, because it's really complicated)... A volume and a tone knob... Oh yeah, there's an on and off switch too... Don't be fooled by it's simplicity. This little amp sound great. As do all the Fender Hot Rod Series amps...
Eastport Music Scene is an Authorized Fender Dealer. In keeping with our agreement with Fender we are only able to ship "New" Fender guitars and Amps to the United States and its territories. However, we can ship anything that is "Used" anywhere in the world.
The item that you are looking at in the pictures is "New" and the actual item that you will receive. If you would like to ask us any questions about this amp we are always available to help you. Please call us at 631-325-6972.
Reviews