Fender Mustang 90 in Torino Red Offset Series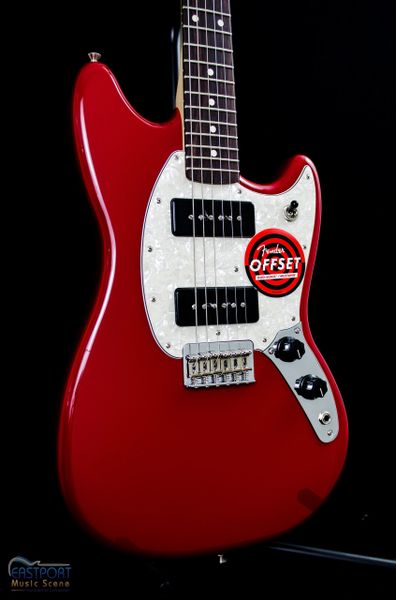 Fender Mustang 90 in Torino Red Offset Series
Eastport Music Scene is proud to present this Fender Mustang 90 in Torino Red from the new Offset series. This is one fat rocking machine fit for the grunge rockers, alternate hipsters, indie rebels, and those who want to hit the scene with an incredible new guitar. What your looking at is an reiteration on a 1960's mustang. Complete with an authentic 24" scale length for easy fretting and bends, but a modern "C" shaped neck with a 9.5" radius, and two specially voiced MP-90 pickups. With the string through hard tail bridge you will stay in tune and have increased sustain. You're gonna get a vintage, warm, aggressive, bluesy but soulful rock sound that's special to this instrument, and you're gonna grab the chords you want with ease.
Eastport Music Scene is an authorized Fender dealer. In keeping with our agreement with Fender, we are only able to ship new Fender merchandise to the United States and its territories. However, we can ship anything used worldwide.
The instrument that you are looking at in the pictures is new and is the actual instrument that you will receive. If you have any questions about this item, we are always available to help you. Please call us at 631-325-6972.
Reviews