Fender King Baby Clef Pendant Necklace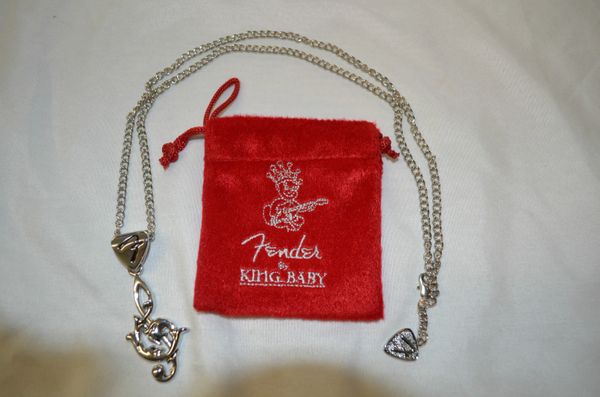 Fender King Baby Clef Pendant Necklace
Eastport Music Scene loves the whole music lifestyle thing and we offer that here with this Fender "King Baby" Clef (Alloy) Pendant Necklace. It is a 2 1/8th" x 7/8th" Silver alloy pendant with a 25" chain that has a really cool Fender pick clasp. People will immediately know what you're about as soon as they spy this beauty hanging around your neck. That is unless you give it to your significant other as a gift (hint, hint)... You will be able to tell the quality of the craftsmanship of this pendant the second you pick it up. This thing's got some weight...
Eastport Music Scene is an Authorized Fender Dealer. In keeping with our agreement with Fender we are only able to ship "New" Fender guitars and Amps to the United States and its territories. However, we can ship anything that is "Used" anywhere in the world.
The instrument that you are looking at in the pictures is "New" and the actual instrument that you will receive. If you would like to ask us any questions about this guitar we are always available to help you. Please call us at 631-325-6972.
Reviews