Fender Deluxe Thinline Telecaster CAR *New Model* W/Gig Bag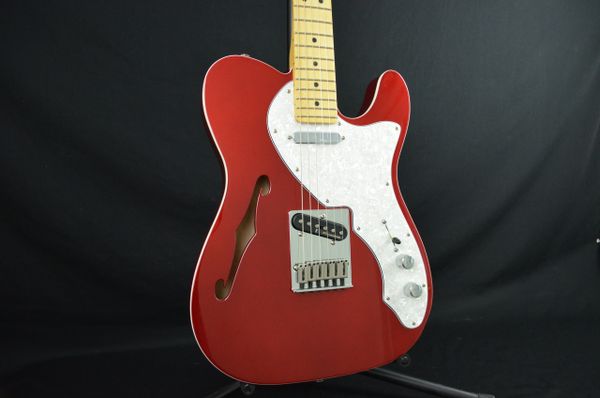 Fender Deluxe Thinline Telecaster CAR *New Model* W/Gig Bag
Eastport Music Scene is proud to present this *new* 2016 Fender Deluxe Thinline Telecaster in candy apple red! This guitar is everything you want from a classic tele with a slew of modernized features. This guitar comes with a 12" radius neck that is smooth, flat, and effortless to play in every position. Even the upper frets have plenty of access because of the contoured heel. With an upgraded modern bridge you're getting increased sustain, easy to set intonation, and with locking tuners you will be staying in tune through the toughest of bends. The body is semi-hollow, so not only is it wonderfully light, but also the warmth that comes with a semi-hollow body works well to balance the twang you get with a telecaster. Speaking of which, the sound that comes from these vintage noiseless pickups is everything you would expect from a vintage telecaster with absolutely no 60-cycle hum. Now normally you would have a 3-way switch with standard telecasters, but this beauty has a 4-way switch with an added position for combining the neck and bridge in series to create more output and a sweet midrange boost. Tonally and structurally this is a solid guitar (pun intended) and it looks incredible with the custom shop color candy apple red and a gorgeous pearloid pickguard. This is the perfect guitar for the vintage player wanting more modern features, but also for the modern player wanting a more vintage feel. When you buy this guitar we will ship it with an included deluxe gig bag.
Eastport Music Scene is an Authorized Fender Dealer. In keeping with our agreement with Fender we are only able to ship "New" Fender guitars and Amps to the United States and its territories. However, we can ship anything that is "Used" anywhere in the world.
The instrument that you are looking at in the pictures is "New" and the actual instrument that you will receive. If you would like to ask us any questions about this guitar we are always available to help you. Please call us at 631-325-6972.
Reviews