Fender American Standard Stratocaster RW in Mystic Red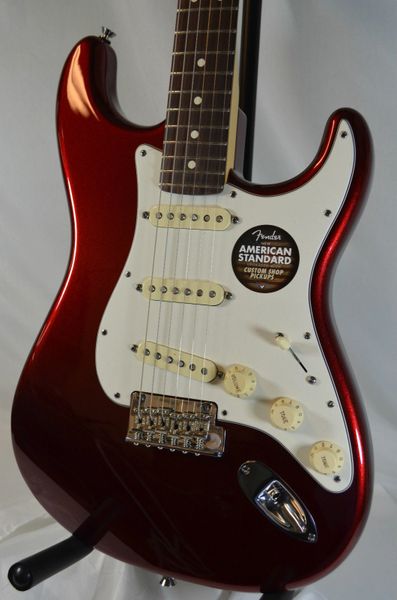 Fender American Standard Stratocaster RW in Mystic Red
Eastport Music Scene is proud to offer you a brand new Fender American Stratocaster. This Mystic Red beauty with a Rosewood fingerboard is one of the most iconic, most recognized guitars ever. It helped define American rock music and there is a good reason it's still made today. Now it's upgraded with aged plastic parts and full-sounding Fender Custom Shop Fat '50s pickups. This latest version of our time-honored classic is the very essence of Strat tone and is a beauty to see, hear and feel. The American Standard Strat with Rosewood Fingerboard is a Fender icon. It features hand-rolled fingerboard edges, Custom Shop Fat '50s pickups, staggered tuners, improved bridge with bent steel saddles and copper-infused high-mass block for increased resonance and sustain, tinted neck, high-gloss maple or rosewood fretboard, satin neck back for smooth playability, thin-finish undercoat that lets the body breathe and improves resonance. It will ship in a Fender SKB molded case with all that great Fender case candy...
Features
· Solid alder body (urethane finish)
· Modern C-shaped maple neck with rich, deep neck tint, glossed neck front with satin back
· 22 medium jumbo frets
H Hand Rolled Fret Edges
· 3 full-sounding Fender Custom Shop Fat '50s pickups
· Delta-tone™ no-load circuit (includes high output bridge pickup and special no-load tone control for middle and bridge pickups)
· Bent steel Fender saddles
· Copper Infused Cast Strat® Bridge Block (steel with copper- 100% metal) for Increased Mass and Improved Tone
· Thinner undercoat for improved body resonance
· American 2-point trem
· Rosewood Fingerboard
· Staggered machine heads
Aged plastic parts
Eastport Music Scene is an Authorized Fender Dealer. In keeping with our agreement with Fender we are only able to ship "New" Fender guitars and Amps to the United States and its territories. However, we can ship anything that is "Used" anywhere in the world.
The instrument that you are looking at in the pictures is "New" and the actual instrument that you will receive. If you would like to ask us any questions about this guitar we are always available to help you. Please call us at 631-325-6972.
Reviews