Fender American Special Telecaster in Lake Placid Blue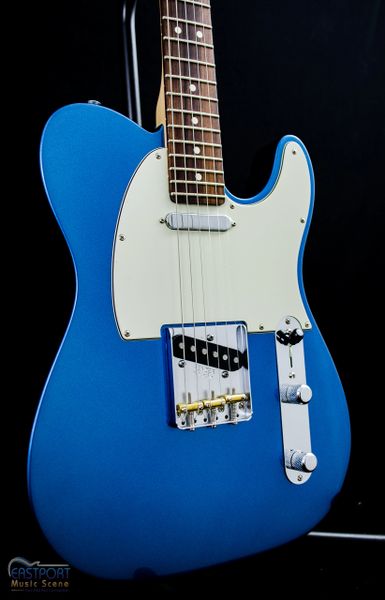 Fender American Special Telecaster in Lake Placid Blue
Eastport Music Scene is proud to present the "NEW" Fender American Special Telecaster in Lake Placid Blue. The first thing I noticed was that the "Blue" of the Lake Placid Blue on the American Special was different. It was much more vibrant and richer. I put it right next to the Telecaster Standard MIM LPB and the color difference was astounding. So what did they do new to this Tele besides the color? Well, the "C" shaped maple neck now has a beautiful Rosewood fretboard with jumbo frets. This Telecaster also has Texas Special Pick-ups, three way toggle switch and a "Greasebucket" tone circuit. The Greasebucket tone circuit allows you to roll off the highs without adding any bass (pretty cool). This guitar also comes with and Fender Deluxe gig bag. Overall the latest and greatest American Special Telecaster is another example of Fender's ability to recreate a classic and keep it fresh and new.
E Eastport Music Scene is an Authorized Fender Dealer. In keeping with our agreement with Fender we are only able to ship "New" Fender guitars, basses and Amps to the United States and its territories. However, we can ship anything that is "Used" anywhere in the world.
The instrument that you are looking at in the pictures is "New" and the actual instrument that you will receive. If you would like to ask us any questions about this guitar we are always available to help you. Please call us at 631-325-6972.
Reviews