Fender 68' Custom Twin Reverb Reissue Combo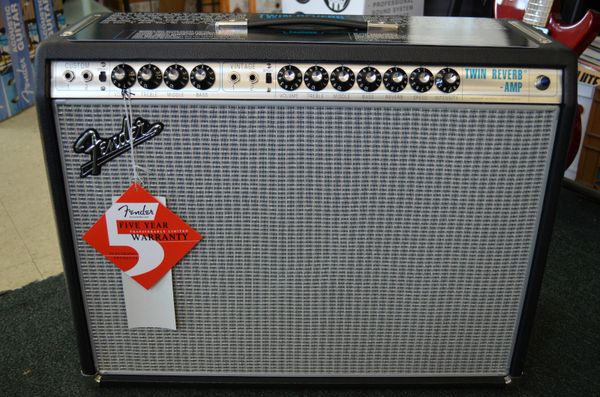 Fender 68' Custom Twin Reverb Reissue Combo
Eastport Music Scene is proud to offer you a brand new Fender 68' Custom Twin Reverb Reissue Combo. The folks from Corona really out did themselves with this variation of the venerable Twin. That should come as no surprise considering Fender's been making the twin since 1952. The '68 Custom Twin Reverb pays tribute to the classic look, sound and performance of their late '60s "silver face" amps. In a special and cool twist both channels sport reverb and tremolo. AND the "custom" channel has a modified Bassman tone stack that gives you modern players greater tonal flexibility with pedals. The Custom also features quicker gain onset and reduced negative feedback for better touch sensitivity. The '68 also has dual 12" Celestion G12V-70 speakers. The G12V's can deliver a more distinctively rock 'n' roll flavor when needed.
This 85 watt tour de force comes stock with 4-12AX7's, 2-12AT7's for the pre-amp and 4-6L6's for the power section. It has custom made Schumacher transformers as well as hand wired tube sockets. You are going to love the silky reverb tone that only a Fender Twin can (and does) deliver, everytime.
Eastport Music Scene is an Authorized Fender Dealer. In keeping with our agreement with Fender we are only able to ship "New" Fender guitars and Amps to the United States and its territories. However, we can ship anything that is "Used" anywhere in the world.
The instrument that you are looking at in the pictures is "New" and the actual instrument that you will receive. If you would like to ask us any questions about this guitar we are always available to help you. Please call us at 631-325-6972.
Reviews