Charvel PM SD1 2H FR Pro Mod San Dimas Style 1 in Tobacco Burst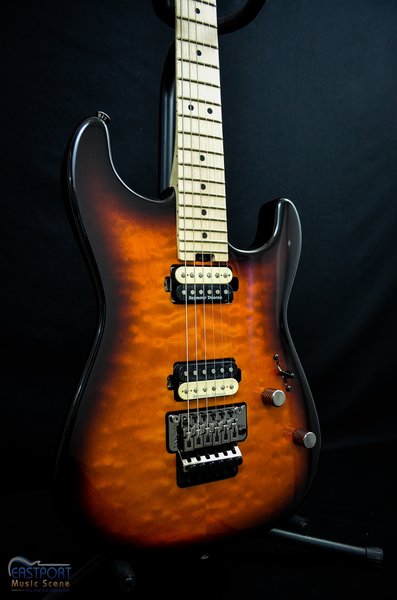 Charvel PM SD1 2H FR Pro Mod San Dimas Style 1 in Tobacco Burst
Eastport is proud to present this "new" 2016 Pro-mod San Dimas Style 1 2H FR killer shred machine in a smoky "Tobacco Burst". The figuring on this quilt maple veneer is really unique and cool. This guitar plays unbelievably well with a 2-piece beautiful maple speed neck, a 12-16" compound radius and rolled fingerboard edges, this neck will have you zipping around with ease. Sporting Seymour Duncan JB SH-4 and SH1N '59 humbucking pickups, the tone is thick, heavy and ready to rock! Unless you wanted more of a strat sound, in which this can be achieved with its coil tapping abilities. The volume knob is push/pull and the tone knob is no-load. What that means is, in position 10 on the tone knob it removes itself out of the circuit for increased output. It lets the pickup's full natural voice shine through. The bridge system is a Floyd Rose FRT-O1000 double-locking recessed tremolo with a locking nut. Everything you would expect from a San Dimas Charvel. This guitar is in perfect condition, plays amazing, and sounds incredible.
Eastport Music Scene is an authorized Charvel dealer. The instrument you are looking at is new/new other and the actual instrument you will receive. Should you have any questions about this listing, or any of the other products that Eastport Music Scene offers, please call us at 631-325-6972.
In keeping with our agreement with Charvel we are only able to ship this product within the Continental United States and its territories.
-
Reviews